A virtual land plot in the Axie Infinity NFT game sold for a record price of 550 ether (about $2.4 million) on Wednesday.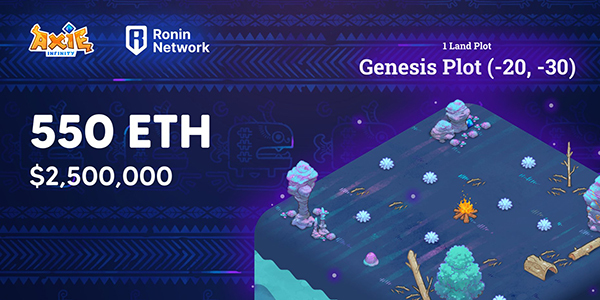 The plot is part of the "Genesis" land type, which Axie Infinity describes as "extremely rare." Genesis land is located in the center of the Axie Infinity map and is capped at 220 plots. 
The seller of the plot goes by "ArcaChemist," and the buyer goes by "Lunacian #789512." There are different types of land in Axie Infinity, including Mystic and Arctic, and they are all collectively called Lunacia. Lunacia is the homeland for Axies — in-game fantasy creatures that are required to play the game.
Axie Infinity is a popular play-to-earn NFT game that enables users to earn tokens called small love potions (SLP) that can be exchanged for cash or other cryptocurrencies.
An Axie Infinity spokesperson told The Block that Axie land "has entertainment value, social value, and economic value in the form of future resource flows, and this is why we are seeing such sales."
In February, nine plots of land on Axie Infinity were sold for over 888 ETH (around $1.5 million at the time and nearly $4 million at current prices).
The latest record purchase comes amidst the rising popularity of virtual land in the blockchain gaming ecosystem. Earlier this week, Canadian investment firm Tokens.com purchased virtual land in Decentraland for a record price of $2.5 million in MANA, the native token of Decentraland.